CELEBRATING OUR HERITAGE & OUR HISTORY


"TEACH YOUR CHILDREN, SO THAT THEY CAN TEACH THEIR CHILDREN,
AND THEY WILL TEACH THEIR CHILDREN" ......Jackie

JOHNS HOPKINS WELCOMES ITS FIRST BLACK FEMALE
NEUROSURGEON RESIDENT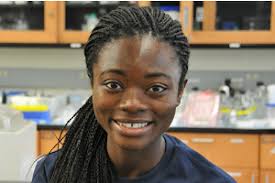 Nancy Abu-Bonsrah is makiing history
by being placed at Johns Hopkins Hospital's neurology department.
Nancy, who's graduating from John Hopkins and will go on to work in their neurosurgery department, hails from Ghana. She was raised in the West African country until the age of 15, and has been in Maryland for the past 11 years.
Nancy will continue her medical training in a seven-year residency program while at the hospital.
Nancy's husband, Kwabena, is also studying medicine as a 3rd-year medical student at University of Maryland. Her moment is extra special, as she will be the first physician in her family.
FROM ESSENCE MAGAZINE
DANIELLE KWATENG-CLARK
MARCH 20, 2017
https://www.essence.com/essence-africa/nancy-abu-bonsrah-johns-hopkins